Humanity & Inclusion UK supports HI's programmes worldwide by raising funds and awareness, influencing policy, and providing technical support.
Rajab, 63, with Sally, an HI physiotherapist, in Azraq refugee camp, Jordan. | © Corentin Fohlen/HI
Our top objective is to bring tangible improvements to the living conditions of people with disabilities and vulnerable populations by supporting HI's mission and programmes worldwide.
We aim to achieve this through an innovative approach to fundraising, responding to the funding opportunities available within the UK to meet the needs of our programmes.
We also provide technical expertise on key sectors of HI's activity to support our country programmes and influence policy and practice.
In addition, we actively campaign for the protection of civilians in conflict zones and the inclusion of people with disabilities in humanitarian aid and development programmes.
Finally, we are focused on maintaining a diverse, happy and connected staff team.
This page explains how we achieved these goals in 2022, in each of our areas of activity, and shares some of our highlights for the year.
Supporting HI's programmes
In 2022, with the generous support of the UK public and institutional donors, HI UK supported 22 countries and several global programmes. The projects supported cover a wide range of HI's activities, including emergency aid, demining, rehabilitation, and inclusive education.
> Read more about our UK finances and annual accounts
Emergency response
2022 saw no let-up in the number of emergencies to which our teams had to respond.
2022 was dominated both in the news and at HI by the war in Ukraine. Thanks to our many exceptionally generous donors, we raised a record amount of funding for our emergency response.
Our teams worked night and day to meet basic needs, to protect vulnerable people, to provide emergency rehabilitation for blast victims, to educate communities about
risks from explosive ordnance, to help meet mental health and psychosocial support needs, and to provide logistics capability to the wider humanitarian sector.
We also mounted emergency responses to a cyclone in Madagascar and to catastrophic
flooding in Pakistan, reaching thousands of people and families in need.
Mine action
Our specialists in Armed Violence Reduction supported humanitarian mine action in 28 countries around the world in 2022, including Afghanistan, Mali, Iraq, Syria, Libya, Yemen, Cambodia, Colombia, Laos, Ukraine and Lebanon.
In all these programmes, we focussed on mainstreaming best practice in conflict-sensitivity so that our interventions directly contribute to building peace.
We continued to lead the way in innovation, with the rollout of our unmanned aerial systems (drone) programme and the delivery of training on this capability to the
wider mine-action community. We have also successfully deployed our body-worn
cameras and remote broadband wifi network to Colombia, and in 2023 intend to deploy this capability to Iraq.
We have also introduced a unique capability for hazardous environmental surveys and clearance to Northeast Syria, which can survey and clear explosive ordnance located in complex high-rise residential areas, in confined spaces and underwater. This is a humanitarian mine-action first and one of which HI is extremely proud.
Rehabilitation
In 2022 our rehabilitation experts supported teams in Ukraine, Ethiopia, South Sudan, Chad, Mali and Syria.
We also worked with the World Health Organisation (WHO) to progress Minimum Standards for Emergency Medical Teams in the areas of highly infectious diseases, spinal-cord injury and trauma surgery.
Inclusive education
Humanity & Inclusion's inclusive education projects around the world are supported by two global specialists and a policy advisor, with the team leader based in the UK.
In 2022, the team supported 25 countries, including Sierra Leone, Rwanda, Jordan, Palestine, Lebanon, Laos, Bangladesh, Nepal and Myanmar. Our work included a strong focus on the development of new projects.
Particular highlights were a workshop with the Ministry of Education in Jordan to promote
better support for inclusive early-years education and a visit to Nepal to provide training for
the HI team and our partners on how to build a more inclusive pre-school environment for
children with disabilities. The team also developed new tools, including an e–learning course.
In addition, in March we helped develop a "menu" of commitments on inclusive education for member states to choose from at the Global Disability Summit in Oslo, and in September we promoted the campaign for disability-inclusive education at the UN's landmark Transforming Education Summit in New York.
Disability inclusion
We are proud to be a partner in the UK Government's flagship Disability Inclusive Development programme, which is led by SightSavers.
DID is carrying out a series of innovative small-scale interventions to increase access to healthcare and education, to improve livelihoods and to reduce stigma and discrimination, using approaches such as adaptive management and community-based consultation to deliver better quality of life for persons with disabilities.
In 2022, HI implemented activities in two countries – Nepal and Kenya – where we strengthen inclusive education systems and services and enhance the livelihoods of people with disabilities.
Inclusive sexual health
In 2022, we continued to work in partnership with the International Planned Parenthood Federation (IPPF) and other organisations as part of the Women's Integrated Sexual Health programme (WISH), a big multi-country programme funded by the UK Foreign, Commonwealth and Development Office.
With our expertise in disability inclusion, in 2022 we continued to provide direct technical assistance to tailor and expand services to promote sexual and reproductive health
and rights to persons with disabilities in Uganda, South Sudan and Madagascar, and remotely to Ethiopia, Sudan, Somalia and Tanzania.
Campaigning
2022 was a momentous year for our long-running "Stop Bombing Civilians" campaign.
In July, the text of a new Political Declaration to curb the use of explosive weapons in populated areas was finally agreed. We went to Downing Street to hand in our petition, which was signed by an amazing 216,719 UK residents. In November, the UK joined 83 other governments in endorsing the new commitment. This is a wonderful achievement.
When explosive weapons are used in towns and cities, over 90% of the casualties are civilians. Those who are not killed are often left with life-long disabilities or psychological trauma, as our teams on the ground know too well. And the damage to schools, hospitals and vital infrastructure takes years to overcome.
The Political Declaration is a game-changer. It sends a powerful signal that it is no longer acceptable to use weapons that are designed for open battlefields in towns or cities. We are now working with the UK Government to encourage them to adapt the way they train the UK military, to do a better job of recording civilian harm and to encourage other governments to get on board with the Declaration too.
Raising funds
Humanity & Inclusion UK (HI UK) raises money from the general public, schools, community groups, corporates, trusts and institutional funders in the UK to support HI's life-changing work worldwide. There are many ways to support our work, including making a donation, taking part in a fundraising event, or leaving a gift in your will.
HI UK is registered with the Fundraising Regulator, which sets and maintains the standards for charitable fundraising and aims to ensure that fundraising is respectful, open, honest and accountable to the public. It is also a member of the Institute of Fundraising and aims to adhere to best practice in fundraising.
Building a healthy organisation
In order to make a difference around the world, we need strong foundations at home. In 2022, we continued our focus on building as welcoming a culture as possible, including by improving our recruitment practices, enhancing our provision for parents, prospective parents, adopters and carers, and introducing a new framework on diversity and inclusion. As part of this work, we opened up conversations with colleagues, trustees and friends to expand our awareness and thoughtfulness on the theme of inclusion. We also developed
our focus and skill in promoting wellbeing and good mental health at work.
> Read more about our UK staff and trustees
---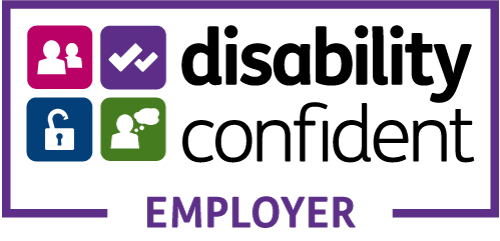 Humanity & Inclusion UK is positive about employing disabled people and is proud to be accredited as a Disability Confident Employer. Find out more about working with us.
A global hub for international development, the UK has a strong history of support for overseas aid directed to the most vulnerable communities.
The UK public is among the most generous in the world, providing help to people affected by poverty, disasters and conflict on every continent. This support is complemented by the sustained engagement of many British companies, trusts and foundations, and by the UK Government's long-term commitment to overseas aid.
With a wealth of international NGOs, universities, think tanks and networks, as well as a vibrant and engaged media landscape, the UK is known as a global hub for good practices in the development sector. Whether in emergency response, mine action, global education or disability inclusion, the UK is consistently at the forefront of international action.
However, there are some risks to this picture. Pressure on household budgets is making fundraising harder, while political and financial pressures have reduced the amount that the UK Government spends on official development assistance. On top of this, trust in charities has fallen in recent years, making it harder for organisations like HI to attract support for our work.
International charities also need to make ourselves more directly accountable to the people that we serve in the countries where we work, not just to our funders at home.
Pressure from conflict, climate change and the persistence of poverty in many parts of the world means that the needs of disabled and vulnerable people remain as high as ever. This makes it essential that we find answers to these challenges. To do this, HI UK works constantly to build strong links in Britain to support our cause, to explain the difference that we make in our work and to be open about why and how we do what we do.
Image © C. Fohlen/Hl.